Municipal Stadium – Hagerstown, Maryland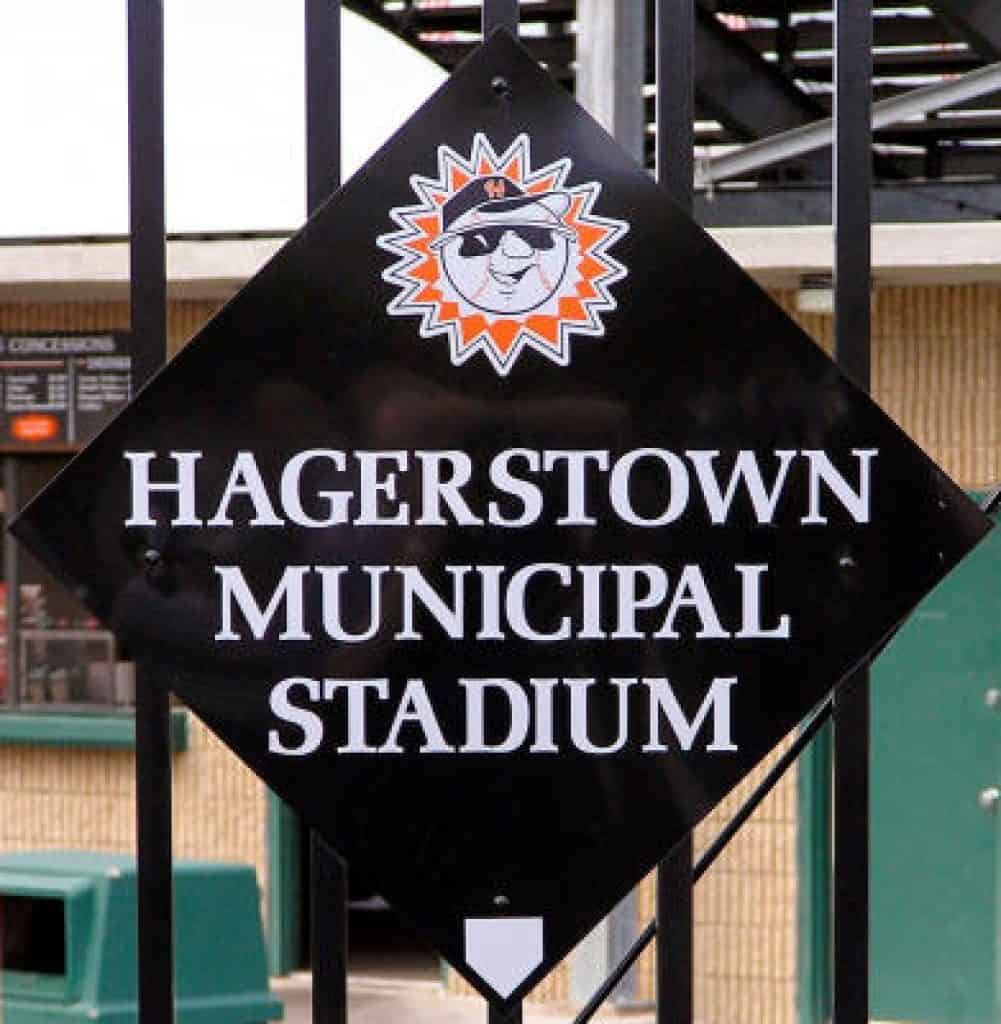 Photos* by Paul Crumlish
Former Notable Players: Jay Gibbons, Orlando Hudson, Cesar Izturis, Alex Rios, Vernon Wells and Mike Young.
Team

Seating Capacity

Dimensions

Year Opened

None
4600
LF 335
CF 400
RF 300
1930 (Closed 2022)
Before its demolition in 2022, Municipal Stadium in Hagerstown, Maryland was one of the three oldest ballparks in Minor League Baseball,
Since its opening in 1930, the stadium was home to several local Minor League teams and was the venue for numerous high school, American Legion, semi-pro, and Negro league games.
Over the years it hosted the Hagerstown Owls (1941-1949), the Braves (1950-1953), and Hagerstown Suns, the Class A affiliate of the Washington Nationals (1981-2020).
The last team to call Municipal Stadium their home were the semi-professional Hagerstown Braves in the 2021 season.
Municipal Stadium was the classic old-fashioned ballpark with a covered grandstand behind home plate and bleacher sections down each line.
Probably the most interesting feature was the elevated ground level near the left field wall. It had a capacity of 4,600 people and saw a record crowd of 6,758 for the Stephen Strasburg rehabilitation start in 2011.
The stadium went through a couple of major renovations.
The first one took place in 1981, when a public address system, underground electricity, stadium lights, new seats and bleachers were added.
The second overhaul in 1995 included upgrading the VIP section and adding new seats and a bar area.
*Photos Taken On:
Augusta Green Jackets vs. Hagerstown Suns, August 18, 2001
Lexington Legends vs. Hagerstown Suns, May 1, 2004
Delmarva Shorebirds vs. Hagerstown Suns, September 3, 2006
Greensboro Grasshoppers vs. Hagerstown Suns, August 18, 2007
Greenville Drive vs. Hagerstown Suns, July 15, 2009
Delmarva Shorebirds vs. Hagerstown Suns, May 12, 2013