Jackie Robinson Ballpark – Daytona Beach, Florida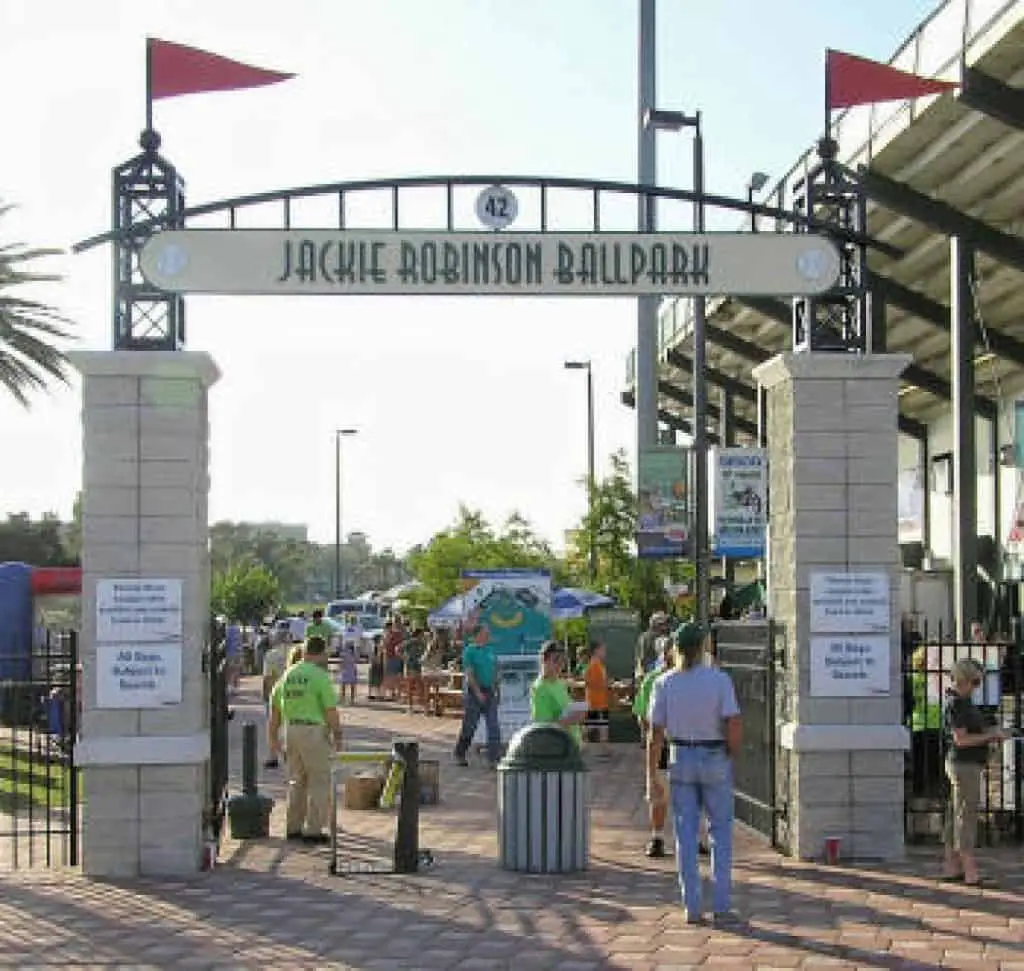 Photos* by Paul Crumlish
Former Notable Players: Terry Adams, Kyle Farnsworth, Doug Glanville, Ryne Sandberg, Amaury Telemaco, and Kerry Wood.
Team

Seating Capacity

Dimensions

Year Opened

Daytona Tortugas
4200
LF 317
CF 400
RF 325
1930
Not many baseball fields in the United States carry more historical significance than the Jackie Robinson Ballpark in Daytona Beach, Florida.
On March 17, 1946, the ballpark was the site of the first racially integrated spring training game.
After being refused by Jacksonville and Sanford stadiums, legendary Jackie Robinson took the field in Daytona Beach to play his first professional ballgame.
Since 1990, the ballpark carries the name of the history-changing player and features a museum in his honor, as well as Robinson's statue at the south entrance.
Today, Jackie Robinson Ballpark is the oldest active ballpark in the Minor League.
Opened in 1914 and originally named City Island Ball Park, the stadium was a spring training site for several MLB organizations and hosted the local Minor League teams.
Currently, it's home to Daytona Tortugas, the Cincinnati Reds' farm team.
A couple of times in its history, the stadium was severely damaged by the Florida hurricanes and has gone through a couple of major renovations.
While many modern amenities such as a new HD video board were added, the ballpark still managed to preserve its classic charm.
In 1998, the Jackie Robinson Ballpark was added to the US National Register of Historic Places.
*Photos Taken On:
Brevard County Manatees vs. Daytona Cubs, August 3, 4, 2001
Brevard County Manatees vs. Daytona Cubs, May 12, 2002
Jupiter Hammerheads vs. Daytona Cubs, May 31, 2008