Al Lang Field at Progress Energy Park – St. Petersburg, Florida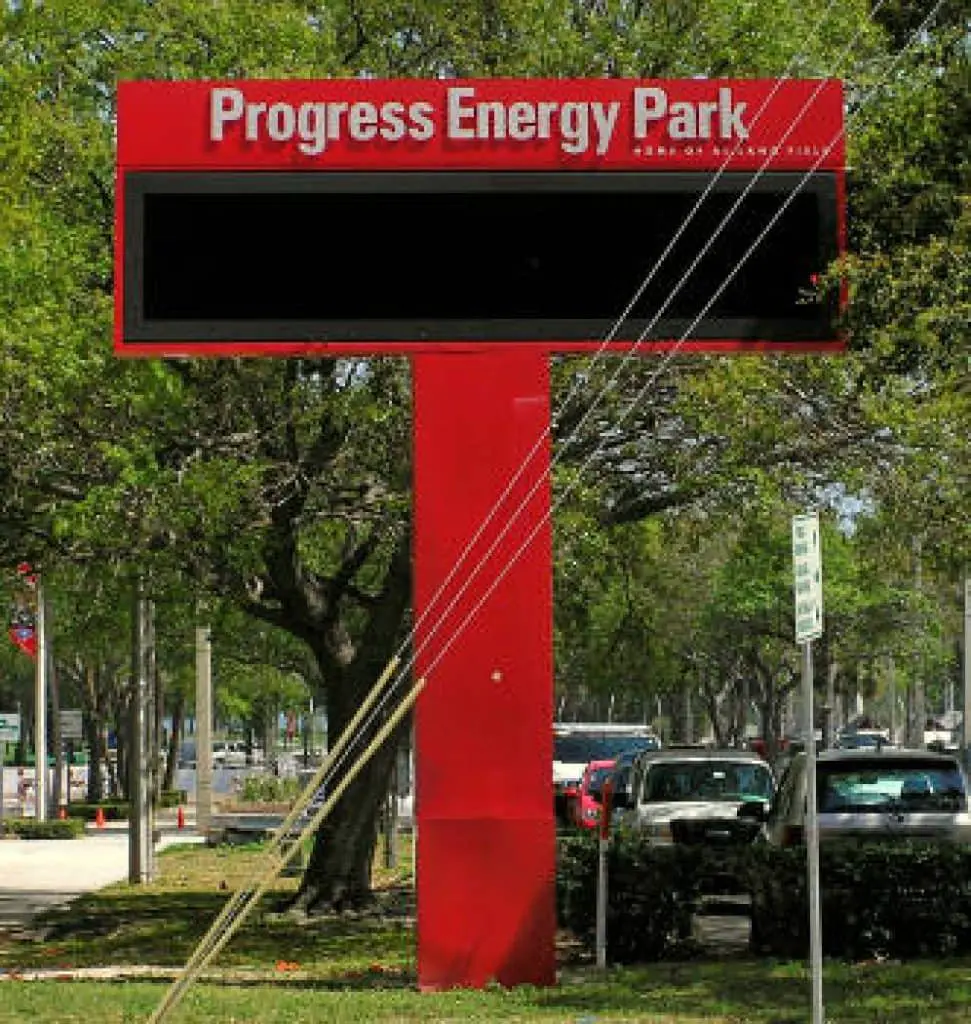 Photos* by Paul Crumlish
Former Notable Players: Keith Hernandez, Terry Kennedy, Ken Oberkfell, Andy Van Slyke, and Dimitri Young.
| | | | |
| --- | --- | --- | --- |
| Team | Seating Capacity | Dimensions | Year Opened |
| None | 7227 | – | 1977 |
One of the most iconic Spring Training venues, Al Lang Field at Progress Energy Park in St. Petersburg, Florida, has been hosting baseball for more than 60 years.
The stadium was built in 1947 at the site of the old St. Petersburg Athletic Park, the upgraded and improved current concrete bowl opened in 1977 as Al Lang Stadium, so the location itself has been home to various baseball teams even longer.
The park is named after Al Lang, a former St' Petersburg mayor and key person in bringing baseball to town in the early 1920s.
The ballpark has been long-known as one of the most beautiful Spring Training sites, with a unique sight line to the ocean over the outfield fence.
Conveniently located right on the bay and only 12 blocks from Tropicana Field, the Al Lang Field attracted several Major League teams who used it as their spring home.
The New York Yankees were the first to hold their spring training here, right after WWII.
They were followed by the St. Louis Cardinals, NY Giants, Mets, Baltimore Orioles, and, finally, Tampa Devil Rays/Rays.
In addition, the ballpark hosted several local Minor League teams, mainly affiliated with nearby Tampa big leaguers.
However, the last Spring Training game was played in 2008 and since then the stadium has changed its primary purpose and has been modified into a soccer venue.
Currently, the primary tenants are Tampa Bay Rowdies, a soccer team playing in the USL Championship.
As the Rowdies are now owned by the Tampa Bay Rays, the MLB franchise has control over the stadium.
*Photos Taken On:
Detroit Tigers vs. Tampa Bay Rays, March 16, 2008