AA vs AAA Baseball – What's The Difference and Which Is Better?
The ultimate goal of every baseball player is to one day play in the MLB.
However, MLB roosters only have room for 40 players each. Plus, only 26 (25 prior to 2020) of those players can be listed as active.
That leaves a lot of ballplayers without a spot on one of the teams in Majors.
Professional players who, for whatever reason, are not currently on an active roster in the MLB, play in one of the Minor Leagues.
Even though MLB and MiLB share the same rules, almost everything else is completely different.
There is a huge gap in salaries, number of teams, size of the leagues, ballparks, and many other factors.
Minors League Baseball has several different levels with Rookie Ball the lowest, and AAA and AA the highest.
I'll take a closer look at the final two levels of competition and compare AA vs AAA baseball.
What is AA Baseball?

Double-A, is the second-highest level of Minor League competition, below only AAA.
After the reorganization in 2021, there are three AA leagues: Central, Northeast, and South.
At the moment, there are 30 teams competing at the Double-A level. That's one team for every MLB franchise.
As with most Minor Leagues, the focus in the AA is not so much on winning but rather on players' development.
As the first entrance to the "upper minors", Double-A is a tough competition to get to and to play in.
Most of the players in the league are MLB prospects that have been in pro baseball only for a short period, usually no more than a couple of years.
Top prospects who prove themselves in the Single-A or Rookie Ball leagues usually make the transition to the AA.
A small number of players may make their start here, usually experienced players from foreign leagues.
What is AAA Baseball?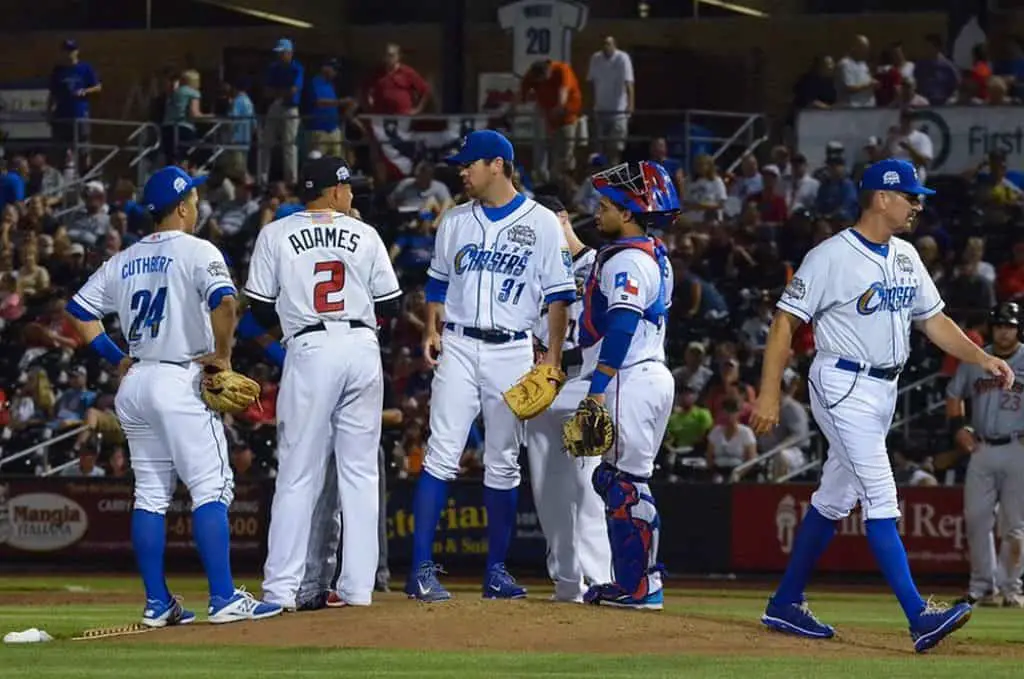 AAA, or Triple-A, is the top level of Minor League baseball in the United States.
Just like AA, it features 30 teams, but they're divided into two leagues: East with 20 teams and West with 30.
The teams are mostly located in smaller cities, but there are a couple in large centers that don't have their own MLB franchise, like Charlotte, Austin, or Columbus.
AAA teams usually feature 14 players from the MLB 40-man rosters who are not active for Major League competition.
Triple-A rosters commonly include both veterans and young prospects.
Sometimes, big-league teams will send a player who's injured or going through the rough patch down a level to regain his form.
Still, not every player gets to return to the Majors. Some players become career Minor-Leaguers.
All this means that there is a lot of player movement up and down and AAA rosters are usually very unstable.
AA vs AAA Baseball – What's the Difference?
The Double-A is typically where you'll find the hottest prospects in baseball.
Players drafted in the first round are usually sent to the AA and often get called up directly to the big league from there.
Rarely, they may have a short stint at the AAA before moving to Majors.
AAA typically features players that are considered "spare parts" in the MLB roster or long-term prospects.
Players in the AAA who are a part of 40-man rosters can be called up to the MLB when the roster expands on September 1.
For contending teams, this is a way to get fresh players for the run-in.
Those not in contention have a chance to evaluate their second-tier players and see if they can hold their own against major-league opposition.
AA vs AAA Baseball – Which One is Better?
One could easily argue that the level of talent in the AA is as good as in AAA, or probably even better.
The Double-A leagues feature the most valuable assets in baseball, hot prospects for whom the MLB teams believe to have a high ceiling and are capable of becoming quality contributors in the Majors.
The best prospects usually move up the MiLB levels until they get to the AA from where they go straight to the big leagues.
On the other hand, the AAA features older prospects or players who are not considered prospects at all.
Teams prefer to keep their best talent in the AA, playing against the competition of their own age, rather than sending them to the Triple-A to play against players with veteran experience.
In addition, the AAA rosters have a lot of players who are there just to rehab.
What is Minor League Baseball (MiLB)?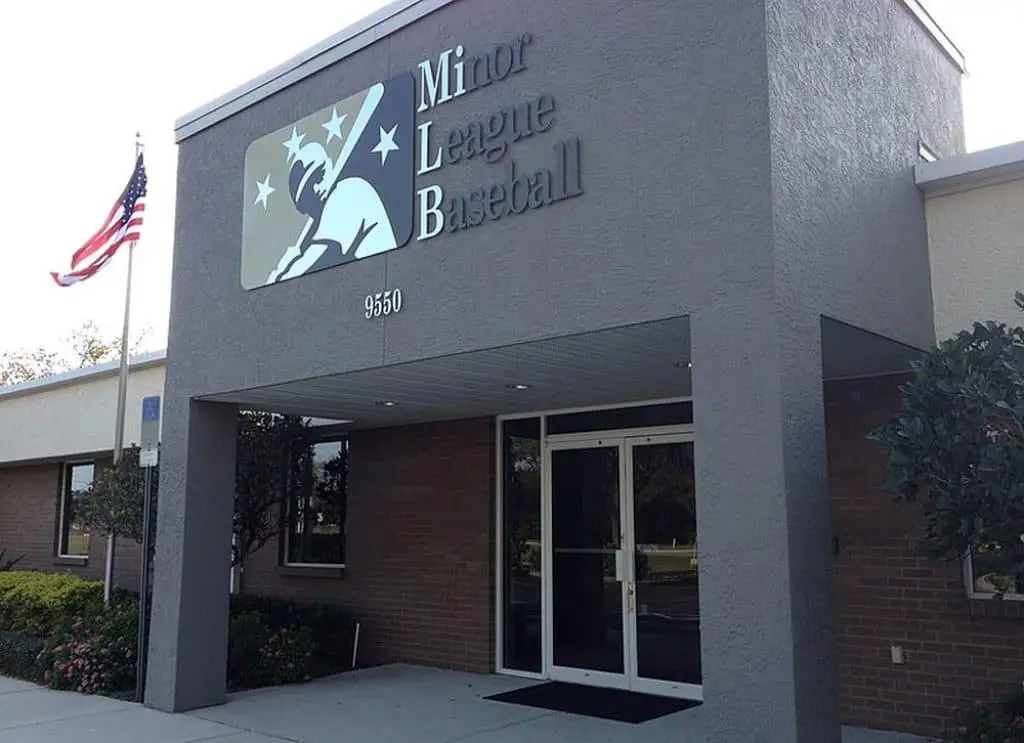 The Minor League Baseball, or MiLB, is a hierarchy of pro baseball teams affiliated with MLB teams and playing at the levels below the Major League.
Every team in the MLB has its own network of up to 11 affiliated teams (often called farm teams) which they use for player development, or, sometimes, rehabilitation and recovery.
The MiLB leagues are divided into four classes which are in hierarchical order.
Most players go through the Minor Leagues level-by-level, but exceptional talents often skip a step.
Minor League teams are commonly not owned by MLB teams but have independent ownership.
Still, they have affiliation contracts with parent teams who pay salaries and benefits for players and staff and provide bats and balls.
Most Major League teams prefer to have affiliates within their own geographical area.
This way, it's easier to track players' development and have called-up players ready to play within hours.
What are the Minor League Levels?
After the reorganization in 2021, the Minor League has four levels:
Triple-A (AAA)
Double-A (AA)
High-A (A+)
Low-A (A)
In addition to affiliates at these four classes, MLB teams commonly have complex-based rookie teams competing in Florida or Arizona Complex League.
How Much do Minor League Players Make?
While the Minor Leaguers are also considered pros there's a huge gap in salaries between MLB and MiLB.
Very few players in the Minors make millions, but those are mostly players who spend only a short stint there.
Some make much more modest but still decent income.
However, most MiLB players barely make a living wage and are forced to stay with host families with their parents paying the bills.
The Minor Leagues implement a sort of a pay scale, where the level you play at determines how much you make.
First-year rookies and players at class A make around $6,000 per year.
Plus, they're paid only while the season lasts, so that makes $300 or 400 a week.
Prospects at the AA make a bit more and their yearly salary is around $9,350 on average.
Triple-A players earn the most with season salaries in the neighborhood of $15,000.
Players who are on the 40-man MLB roster make more than this, usually up to $70,000 per year.
Conclusion
For many, Minor Leagues are the heart and soul of US baseball.
Even though the level of play is not like in the MLB, these teams have plenty of fans, both locally and people who enjoy tracking the development of their MLB team's prospects.
The Major League as we know it would be impossible without the AA and AAA foundation.
The best-run teams in the Majors know that player development is the best way to build a championship team.
This is why they often invest heavily into their AA and AAA affiliates and continue to support Minor League Baseball.
Looking through the Hall of Fame, it's hard to find a player who hasn't developed his craft in the Minors.