Do MLB Umpires Pay For Travel? (Answered In Detail!)
Umpiring in Major League Baseball is a very demanding job, both physically and mentally.
Umpires are responsible for making sure that the game is played fairly and within the rules.
Their job is highly demanding because they have to deal with a lot of pressure, as they are often the ones who have to make tough decisions that can either make or break a game.
The burden becomes more intense when you consider that they must travel frequently to different stadiums across the country.
This brings me to the question:
Do MLB umpires pay for travel expenses? The answer is a resounding NO!
Top-level professional umpires benefit from a comprehensive travel and expenses package that is paid for by Major League Baseball.
This includes all airfares, ground transportation, accommodation, and meals while on the road.
In other words, MLB umpires do not have to worry about any out-of-pocket travel expenses.
Do MLB Umpires Pay For Travel?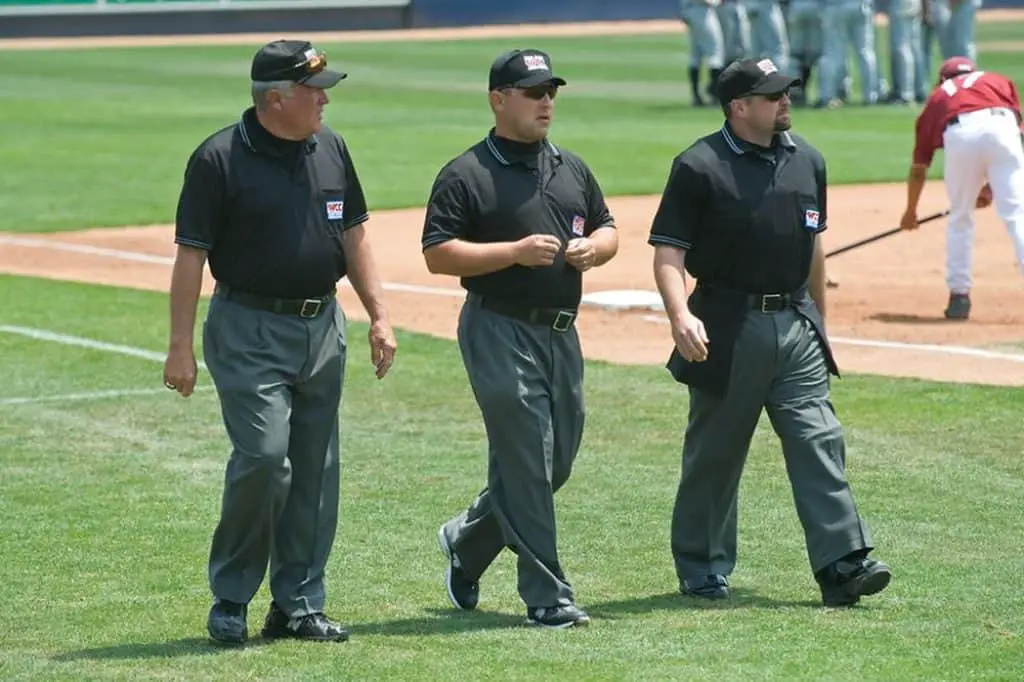 Major League umpires travel from city to city, covering all 30 MLB teams. Meaning a total of 2,430 regular-season games in 180 different cities.
That's a lot of ground to cover!
And it would be pretty tough (and expensive) to do all that traveling on your dime. The league pays for their travel, as well as their accommodations and meals.
This include:
First-class airfare
Ground transportation such as Rental cars
Hotels accommodations
Per diems (a daily allowance to cover meals and incidentals)
The MLB umpires not only get the ticket for games only.
Besides, they get an air ticket for post-session training and other development programs that help them improve their skills.
According to MLB.com, "The total per diem for umpires on the road is $425."
This is in addition to their base salary, which ranges from $110,000 to $350,000 per year.
How Do Umpires Travel?
Unlike players, who typically fly on team charter flights, umpires travel on commercial airlines.
This is because they cover such a large geographical area and need to be able to stay flexible to get to their next destination promptly.
While it may not be as glamorous as flying private, it does have its perks.
Umpires can accumulate frequent flyer miles, which they can use for personal travel. In addition, they receive complimentary upgrades to first-class when available.
The objective of MLB is to get the umpires to their destination safely and on time, so they can focus on doing their job.
So, while umpires may have to spend a little more time in the airport than players, they are still able to enjoy some of the benefits that come with air travel.
Furthermore, they can see different parts of the country (and sometimes the world) that they might not otherwise get to experience.
How Much Do Major League Umpires Travel?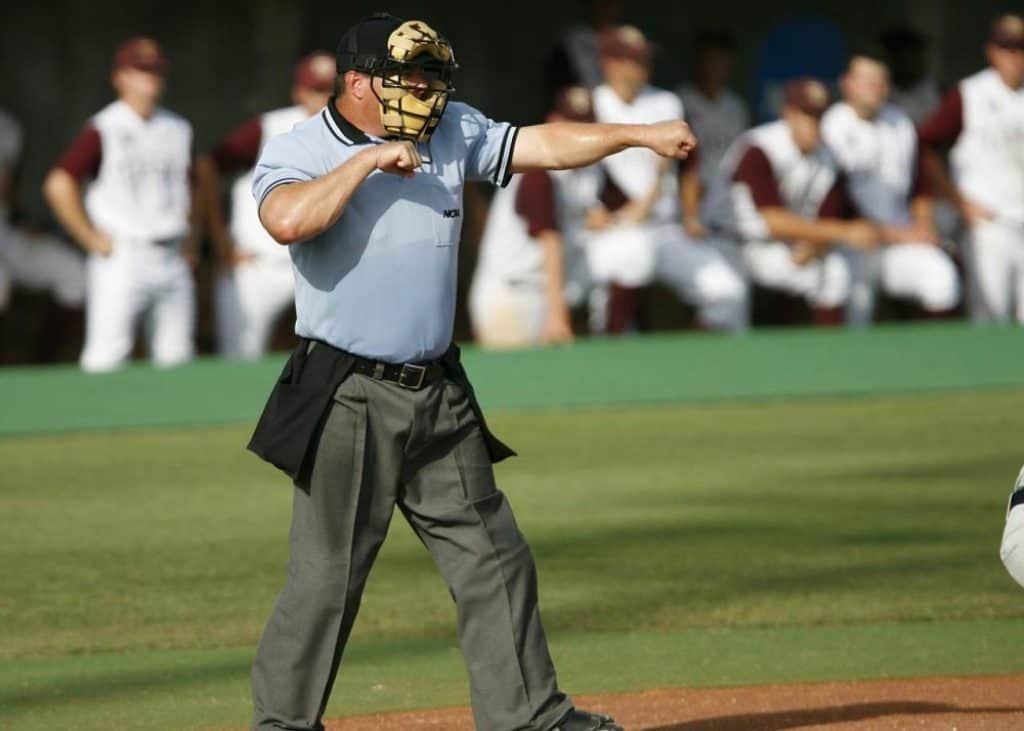 Due to frequent changes in scheduling, it is difficult to estimate the precise amount of travel that umpires do.
However, it is safe to say that they cover a lot of ground. On average, umpires will travel between 30,000 and 40,000 miles per season.
This means that they spend a significant amount of time on the road, away from their families and homes.
While it can be tough to be away from home for such long periods, umpires can stay in touch with their loved ones thanks to modern technology.
With the advent of video chat and social media, it has become easier than ever to stay connected with those who matter most, no matter where in the world you might be.
So, while being an umpire requires a lot of travel, it is still possible to maintain a strong connection with family and friends.
Thanks to technology, the world has become a much smaller place.
Do MLB Umpires Travel Together?
Each umpire is a member of an umpire crew, which is made up of four professionals who work together as a team throughout the season.
It is not a requirement that umpires travel together, but many of them choose to do so. This is because it can be more cost-effective and logistically simpler.
When the crew travels together, they can share hotel rooms and rental cars.
This can save a significant amount of money, especially when traveling to multiple cities over the course of a week.
However, the crew does not always travel together. Instead, they can make their travel arrangements to and from the ballpark if they prefer.
This can be a benefit, as it allows umpires to tailor their travel schedule to their own needs.
However, it can also be a challenge, as it can be difficult to coordinate travel plans with three other people.
At the end of the day, umpires are responsible for getting themselves to and from each game. This means that they have to be organized and efficient when it comes to travel.
What Are Some Of The Challenges Of Umpire Travel?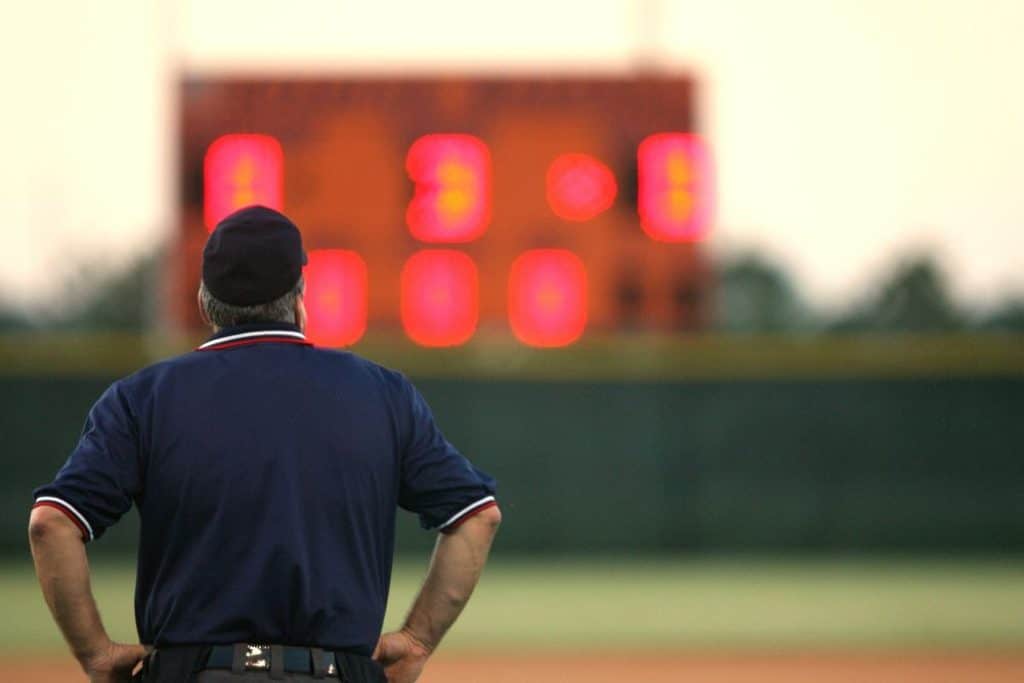 Like anything, umpire travel has its fair share of challenges.
Here are a few of the most common:
Umpires Have To Be Flexible With Their Schedules
One of the biggest challenges is simply getting to and from the ballpark on time. With so much ground to cover, traffic can be a major issue.
Umpires have to factor in travel time when deciding when to leave for the stadium, which can add a lot of stress to an already demanding job.
This means that they might have to change their plans at the last minute, which can be frustrating.
Umpires Have To Be Able To Deal With Jetlag
This can be a challenge, especially when traveling from coast to coast. They need to be able to adjust to different time zones quickly, which can be tough on the body.
Additionally, umpires need to be able to focus on the task at hand, despite feeling tired.
Different Types Of Weather Conditions Can Make Travel Difficult
For example, snowstorms can delay flights and make it difficult to get to the ballpark on time.
Umpires also have to deal with the heat, which can be draining.
They Are Away From Their Families For Long Periods
Nothing can replace the feeling of being home with loved ones.
Umpires often have to spend months on the road, which can be tough on relationships. It can be hard to stay connected when you're constantly on the go.
What Are The Benefits Of Being An Umpire?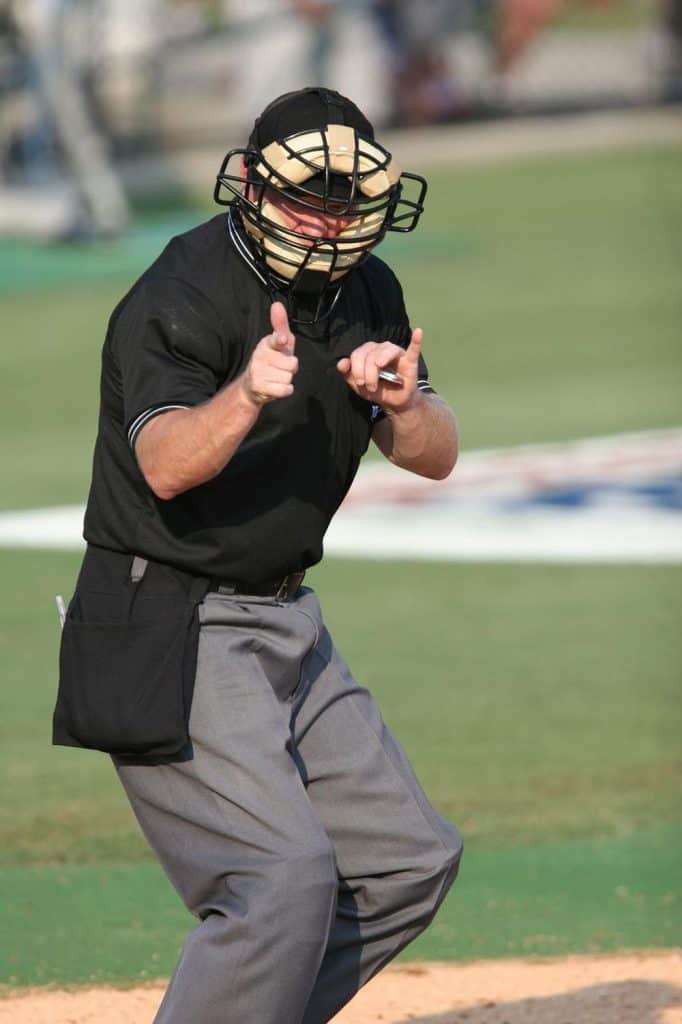 Despite the challenges, there are also many benefits to being an umpire.
Here are a few of the most common:
Umpires Get To See Different Parts Of The Country
This can be a great way to see new places and experience different cultures.
Travel can be a great way to learn more about the world.
Umpires Get To Meet New People
Umpires often form strong bonds with their crews. They also get to meet new people at every ballpark they visit.
This can be a great way to make new friends and expand your network.
Umpires Get To Witness Some Amazing Moments
Whether it's a no-hitter or a walk-off home run, umpires get to see some truly special moments.
They also get to be a part of history, which can be very rewarding.
Umpires Get To Make A Difference
Umpires have a unique opportunity to make a positive impact on the game.
They can help young players develop and mentor them as they progress through their careers.
Umpires also play an important role in enforcing the rules of the game.
Umpires Get To Enjoy Many Perks
Umpires often receive free tickets to games, as well as access to VIP areas. They also get discounts on hotels and rental cars.
In addition, umpires sometimes receive complimentary meals and drinks.
What Is The Process For Becoming An MLB Umpire?
The path to becoming an MLB umpire is not an easy one.
There are a few key steps that aspiring umpires must take to achieve their goal.
1. Umpires Need To Complete An Accredited Umpiring Program
There are a handful of umpiring schools across the country that are accredited by Major League Baseball.
These programs typically last around 10 weeks and cost around $3,500.
2. Umpires Need To Register With The Professional Umpires Association
The PUA is responsible for assigning umpires to minor league games.
To be registered with the PUA, umpires must pay an annual fee of $450.
3. Umpires Need To Attend An MLB Umpire Camp
These camps are invite-only and are typically held in the spring.
They provide an opportunity for umpires to showcase their skills in front of MLB scouts.
4. Umpires Need To Be Selected In The MLB Umpire Draft
The draft is held every year and consists of 20 rounds.
Approximately 50-60 umpires are drafted each year.
5. Umpires Need To Complete A Minor League Training Program
Once umpires are drafted, they must attend a minor league training program.
This program lasts for six weeks and is held at the MLB Umpire Training Academy in Vero Beach, Florida.
6. Umpires Need To Be Assigned To A Minor League Team
After successfully completing the training program, umpires are assigned to a minor league team.
They will spend the next few years working their way up through the minor league ranks.
7. Umpires Need To Be Promoted To The Major Leagues
The final step in becoming an MLB umpire is to be promoted from the minors.
This typically happens after a few years of successful performance at the minor league level.
Once umpires are promoted, they can start working regular-season games in the Major Leagues.
Conclusion
Do MLB umpires pay for travel? In most cases, no. Major League Baseball reimburses its umpires for travel expenses incurred while working games.
This includes airfare, hotels, and rental cars. Umpires also receive discounts on hotels and rental cars. In addition,
MLB umpires are given a per diem allowance to cover meals and other incidentals while on the road.
Being an umpire can be a great way to see the world, meet new people, and make a difference.
If you're considering a career in umpiring, be sure to weigh the pros and cons before making a decision.