Stockton Ballpark – Stockton, California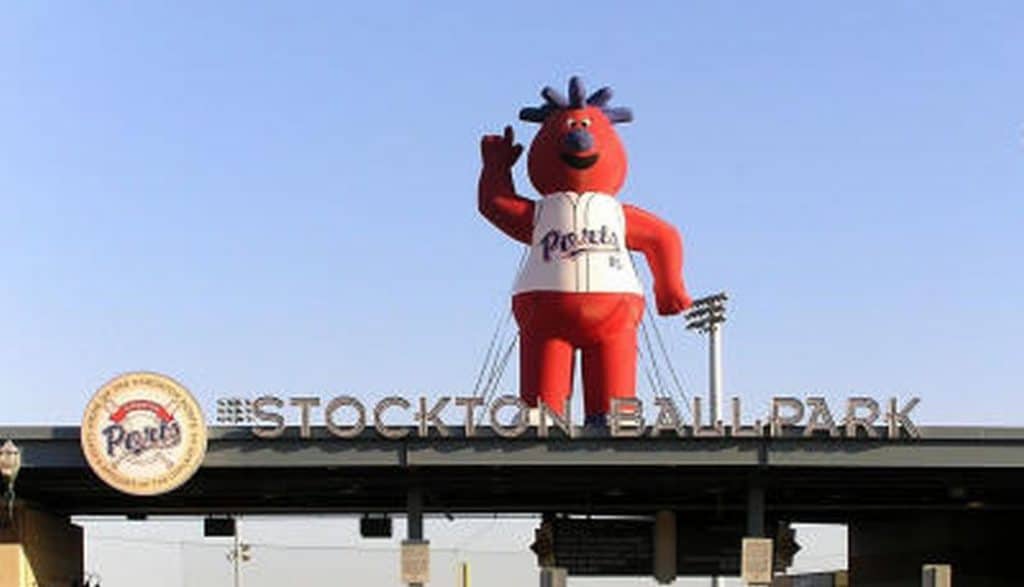 Photos* by Paul Crumlish
Former Notable Players: Andrew Bailey and Dallas Braden
Team

Seating Capacity

Dimensions

Year Opened

Stockton Ports
5,2000
LF 300
CF 399
RF 326
2005
Although officially named Stockton Ballpark, the stadium on the Stockton waterfront is best known among baseball fans as Banner Island Ballpark.
This name is a reference to the area where the ballpark is located. The official name is supposed to serve only as a placeholder until the city finds a suitable sponsor.
The Banner Island has been home to baseball in Stockton for over 100 years, but the stadium itself is one of the newest in the minors.
It was built in 2005, along with Stockton Arena as the city tried to rejuvenate the Downton Stockton waterfront.
Today, the field is an integral part of the large Waterfront Entertainment Complex.
Due to Banner Island's rich history, the stadium holds a historical certificate issued by the Stockton Cultural Heritage Board.
Since the day it was opened, Stockton Ballpark has been home to Stockton Ports, the team previously played at Billy Herbert Field for more than 50 years.
Right now they're the Low-A West affiliate of the Oakland Athletics. Stockton Ballpark also often hosts concerts and community gatherings.
The seating capacity for baseball games is 5,200.
All the seats, and also concessions, press boxes, and luxury suites are on the same level which provides a more intimate atmosphere during the games.
---
*Photos Taken On:
April 17, 2008 (Rancho Cucamonga Quakes vs. Stockton Ports)