State Mutual Stadium – Rome, Georgia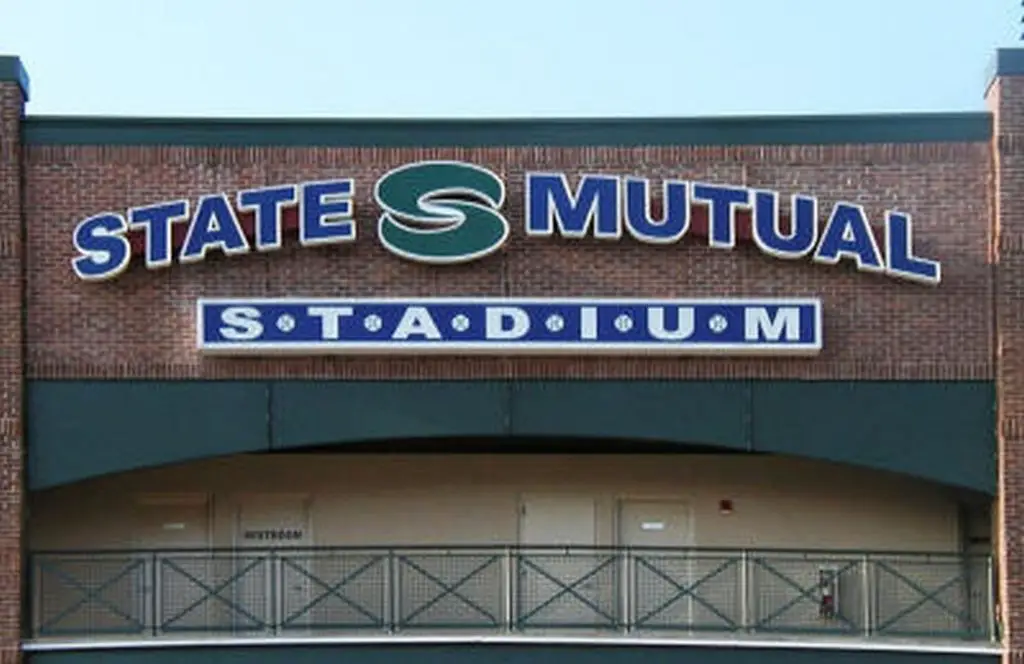 Photos* by Paul Crumlish
Former Notable Players: Elvis Andrus, Jeff Francoeur, Jason Heyward, Craig Kimbrel and Brian McCann.
Team

Seating Capacity

Dimensions

Year Opened

Rome Braves
5,105
LF 335
CF 401
RF 330
2003
AdventHealth Stadium, previously known as State Mutual Stadium, is home to Rome Braves, the High-A affiliate of the Atlanta Braves.
The ballpark opened in 2003, only 70 miles from the Braves' former home, Turner Field.
In 2002, the Atlanta big-leaguers decided to move their farm team from Macon, after a dispute with the city over the new ballpark.
The City of Rome, Georgia jumped to the opportunity and built the new stadium which has been hosting minor league baseball ever since.
Initially, the naming rights belonged to a local State Mutual Insurance Company. In 2022, the stadium changed its name, as the non-profit healthcare organization AdventHealth secured the naming rights.
In many ways, AdventHealth Stadium is similar to Wild Health Field in Lexington, KY. It's rather understandable as the same firm, the Canadian Stadium Consultants International, designed both facilities.
The stadium seats 5,105 people, with a single-game biggest attendance of 6,314, recorded back in 2014 for the game between Rome Braves and their big-league parent team.
Most of the seating is located above the concourse walkway, a bit far from the field. Like most of the newer ballparks,
AdventHealth Stadium doesn't have a wraparound concourse but the right field corner features a fairly large grassy area where fans can sit and the kid's playing corner.
Since its opening, the field went through several major renovations, with the latest taking place in 2021.
Among other things, the stadium added 14 luxury seats, a state-of-the-art baseball field speaker system, a brand new video board, and multiple concession areas.
---
*Photos Taken On:
June 17, 2004 (Columbus Catfish vs. Rome Braves)