New Era Vs 47 – Which One Is The Best?
The first baseball hats were made from straw, and, later on, merino wool was used as the primary baseball hat material.
However, over the last decades, a lot of advancements in the manufacturing of baseball hats have been made, and a number of numerous baseball brand hats emerged.
However, New Era Vs 47 hats brands seem to stand out.
So whether you are an enthusiastic baseball player or an actual batman and you can't seem to decide between New Era Vs 47, baseball hats, then read on as I got you covered through this article.
I will provide you with in-depth details on the New Era and the 47 baseball caps. I will also walk you through the pros and cons of these two superior brands.
And to make sure that you make an informed decision, I will provide you with a comprehensive summary of the differences between these two hats.
New Era Baseball Hats
Last update on 2023-08-30 at 23:22 / Affiliate links / Images from Amazon Product Advertising API
When it was first founded in 1920 by Ehrhardt Koch, the NEW Era baseball hats manufacturing company produced 60,000 caps, unlike in 2022, where it's manufacturing an estimated 75 million caps annually.
This family-owned business enterprise has its headquarters located in Buffalo, New York, USA.
Christopher Koch, 61, who has been the CEO since 2002, has, over the years, put in a number of ideas that have significantly improved the initial New Era hat designs.
The New Era Baseball Hats  are structured, can be fitted, snap-back, or adjusted, and have a truer size fit.
These iconic hats' brims may be flat or curved and give the wearer a more traditional look.
It comes in a variety of designs, with the 59fifty being the most popular design, which can be either low or high profile.
Positive
Comes in numerous sizes and designs
Has a more traditional look
Has a more actual size fit
It's a structured hat making it fit on your head perfectly without the risk of falling off
Made with a licensed material to be used by players in MLB, NFL, and NBA leagues
Negatives
Cannot be folded
It's a bit less durable
The structured design makes its washing a bit difficult
'47 Baseball Hats
'47 Brand MLB NY Yankees Clean up Cap - Vintage Navy
SHOW OFF YOUR TEAM SPIRIT: Show off your team spirit in style with this officially licensed Clean Up cap by 47, the...
ONE SIZE FITS ALL: Each Clean Up baseball cap by '47 is stylishly crafted with an adjustable fabric strap closure, so...
MATERIAL: All of our officially licensed baseball caps are made from 100% cotton with a garment washed un-structured...
OFFICIALLY LICENSED: We at '47 stand by our products - we produce a rare mix of the finest headwear and apparel with an...
Last update on 2023-09-01 at 15:18 / Affiliate links / Images from Amazon Product Advertising API
The '47', initially known as '47 brand' until 2015 and as 'Twins enterprise' from 1947 to 2010, was established by twins Italian brothers Arthur and Henry D'Angelo in 1947.
Its headquarters is located in Westwood, Massachusetts.
The '47 Baseball Hats  are distinguished by their unique features, which are;
These unstructured caps have a vintage look (already look worn even when new) which gives the wearer a casual look.
These loosely fitting hats also have short bills (brims) which are typically curved.
Positive
Designed to fit someone with a slightly oversized head or massive hair
Gives off a casual vibe this makes it a multipurpose hat
Very foldable- It can be fitted into small spaces and back parks without the risk of damage
Vintage design makes it look old even when it is new, a good fit for people who have neophobia (phobia of wearing new things)
Doesn't tightly fit- ensure undisrupted blood circulation, which also prevents you from getting a migraine after a long day wearing it
Negatives
Not a good fit for people with small heads
May be not easy to have the embroidery displayed effortlessly
Keeps coming off due to its loose-fitting design
New Era vs 47 – What's Their Difference?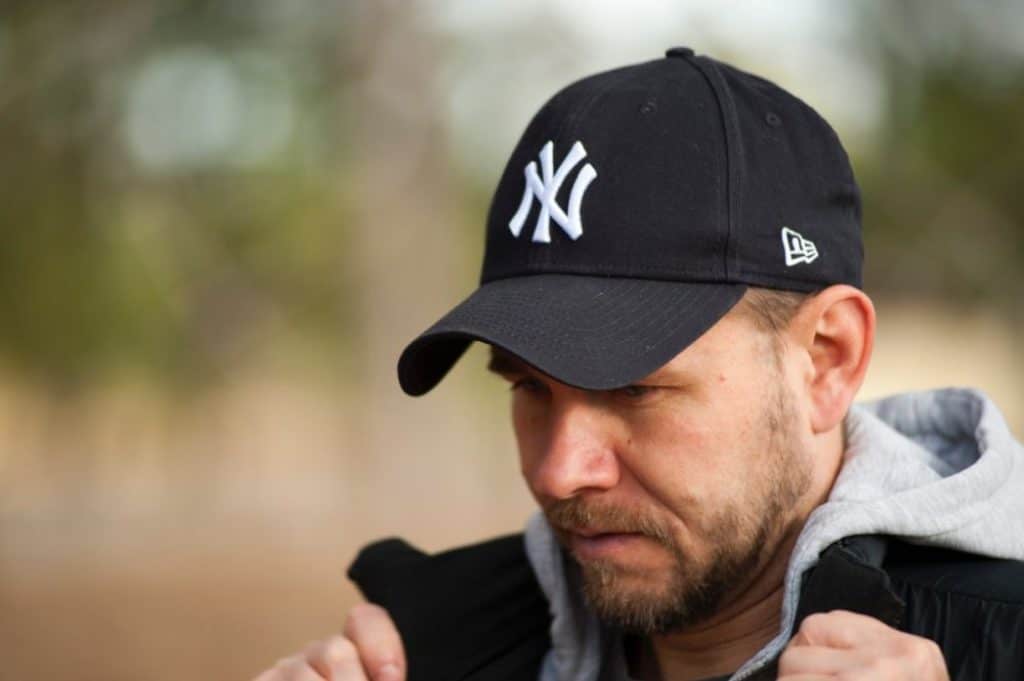 Below are some of the significant differences that set these two competitive baseball hats brands apart;
#Year Of Establishment
New Era hats manufacturing company was established in 1920 by Ehrhardt Koch, whereas the 47-baseball hats producing company was started in 1947 by twin brothers Arthur and Henry D'Angelo.
#Design
The New Era hats have structure that is reinforced from the front panel to add stability and enhance the cap's shape.
The structured design makes these hats suitable for logo embroidery as the logos are effortlessly displayed.
On the other hand, the '47 baseball hats are unstructured. That is, they lack any form of reinforcement which makes it easy to collapse their crowns.
This feature makes it easy to pack them in your bag or back pocket without damaging them.
#Washing Requirements
Due to the structured design in New Era baseball caps, special washing requirements must be applied, unlike in the 47 unstructured baseball hats; where there is no need of following a given washing guide.
This means that you spend the least time cleaning a 47 hat than when washing a New Era hat.
#Official Manufacturing Lcensing
Both the New Era and 47 baseball caps are licensed to use the different logos; however, New Era is the only one officially licensed to manufacture MLB on-field hats.
#Look
Both hats look easy on the eyes.
However, the New Era hats are designed to give their wearers a traditional look, whereas the 47 baseball hats are fashioned to provide the wearers with a more casual or laid-back look
#Label/Logo
NE is the logo for New Era hats, whereas 47 is the logo/label for 47 baseball hats.
New Era vs 47 – Which One Should I Choose?
New Era Baseball Hats
'47 Baseball Hats
New Era MLB Team Classic 39Thirty Stretch Fit Cap, Blue, Medium/Large
'47 Brand MLB NY Yankees Clean up Cap - Vintage Navy
Last update on 2023-08-30 at 23:22 / Affiliate links / Images from Amazon Product Advertising API
New Era Vs 47 both are exceptional baseball caps for both fans and baseball players.
These two caps are manufactured by the use of premium material and designed to fit different people distinctively.
Since both hats are exceptionally comparable, it's vital that you consider the following factors when choosing either New Era vs 47 baseball hats.
Your Style
If your aim is to wear a hat that gives you a more casual or laid-back look that doesn't scream, 'you were out enjoying a baseball game', the '47 hats will be a good fit for you.
If your aim is to achieve a traditional or sophisticated look while on the baseball field, then the New Era hats will do the trick for you.
Your Face's Shape
If you have a rounded face, I recommend getting yourself the New Era hat as its wide brim and structured design will compliment your head.
And if your face is structured in a heart-like shape, then the unstructured and medium-small brimmed '47 hats will fit the bill.
Your Head's Size And Hair Quantity
If you have a slightly big head or lots of hair, then the unstructured '47 baseball cap is the ideal fit for you.
The New Era hat will fit you if you have a small head or less quantity of hair.
Your Aim/Purpose Of Wearing The Hat
Suppose your baseball hat's purpose is to express your loyalty to your favorite team through matching with the baseball players' hats.
In that case, I recommend you get yourself the 59fifty New Era Hats  since this is the only hat that is worn on-field by professional baseball players.
How To Tell If You Are Buying An Authentic New Era Or 47 Baseball Hat
Before choosing a New era vs 47 hat, it's vital that you know how to tell whether or not you are about to buy an original or a fake hat.
Below is the complete guide in how to tell the differences between a genuine and a fake New Era vs 47 baseball caps;
If you choose to buy the New Era baseball cap, ensure that;
It has an inner stitching/tapping with a New Era logo on it and a New Era tag with the care and washing instructions clearly stitched on it.
It should also come with a New Era sizing sticker which is usually placed at the visor. A holographic sticker is another must-have feature for all original New Era team caps.
For all MLB on-field caps, the holographic sticker must be rectangular with an 'authentic' watermark clearly labeled on it.
Those not worn on-field (usually a limited edition) usually have a circular holographic sticker on them.
All MLB and NFL on-field hats have a NE logo button backer (a pin) that's visible on the center on the inside of the hat.
Almost all on-field New Era hats will have the league logo clearly embroidered on the back of the hat.
The NE logo is typically embroidered on the left side of the hat. A '47 hat has a distinct 47 label on the buckle and the inside of the button.
Always shop from a trusted and reputable brand, as it may be pretty hard to tell the difference between a genuine and a fake hat, especially if you are a newbie when it comes to shopping for baseball hats.
Key Takeaway
Both New Era and '47 caps are superior baseball hats brands. The two uses premium materials and unique designs to manufacture durable baseball caps.
The New Era Baseball Hats  are structured, need to be cleaned specifically, and give the wearer a traditional look.
This is in contrast to the '47 Unstructured Hats , which don't require to be washed in a specific way and give the wearer a casual or laid-back look.
When choosing between the two, consider your style, your face's shape, whether rounded or heart shaped, your head's size and hair quantity, and the aim of wearing the hat while in the field.
Always make sure that you look at the tags, labels, and stickers on your New Era or 47 baseball hats to confirm authenticity before making a purchase.
Another certain way of buying a genuine hat is by purchasing one from a reputable baseball hat dealer.