New Britain Stadium – New Britain, Connecticut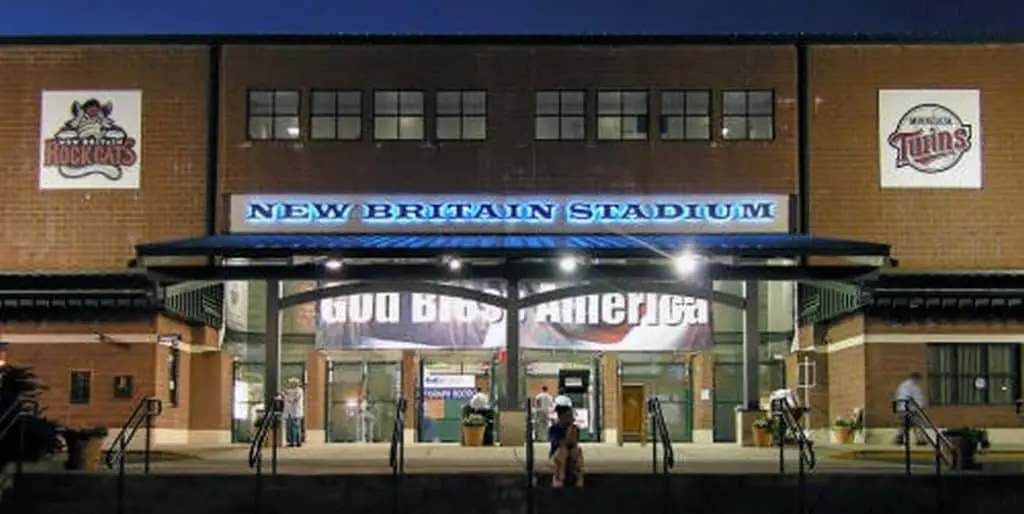 Photos* by Paul Crumlish
Former Notable Players: Michael Cuddyer, Torii Hunter, Corey Koskie, Joe Mauer, Justin Morneau and David Ortiz.
Team

Seating Capacity

Dimensions

Year Opened

New Britain Bees
6,146
LF 330
CF 400
RF 330
1996
New Britain Stadium is a part of a huge complex known as Willow Brook Park in the City of New Britain, Connecticut.
The facility also includes Beehive Field, the former home of New Britain Red Sox, and Veteran's Memorial Stadium intended for football and soccer.
In fact, the inability of Beehive Field to comply with the Minor League requirements is the main reason for the development of another ballpark so close by.
The stadium was built in 1996 and is currently home to New Britain Bees, competing in the Futures Collegiate Baseball League.
The Bees are a successor to New Britain Rock Cats who played in the Eastern League before moving away to Hartford.
The regular seating capacity is 6,146 although the ballpark recorded a record attendance of 8,672 in 2015.
The ballpark features only a small covered seating area.
However, there's a spacious concourse at the ground level beneath the seating area where the fans can take shelter from the rain if needed.
The top of the seating bowl features skyboxes and a press box sandwiched between them.
New Britain Stadium has two patio areas with picnic tables, grills, and a beer deck.
Inside the stadium, you can find plaques honoring the members of the New Britain Sports Hall of Fame.
---
*Photos Taken On:
June 11, 2008 (Altoona Curve vs. New Britain Rock Cats)