Edson J. Hadlock, Jr. Field – Portland, Maine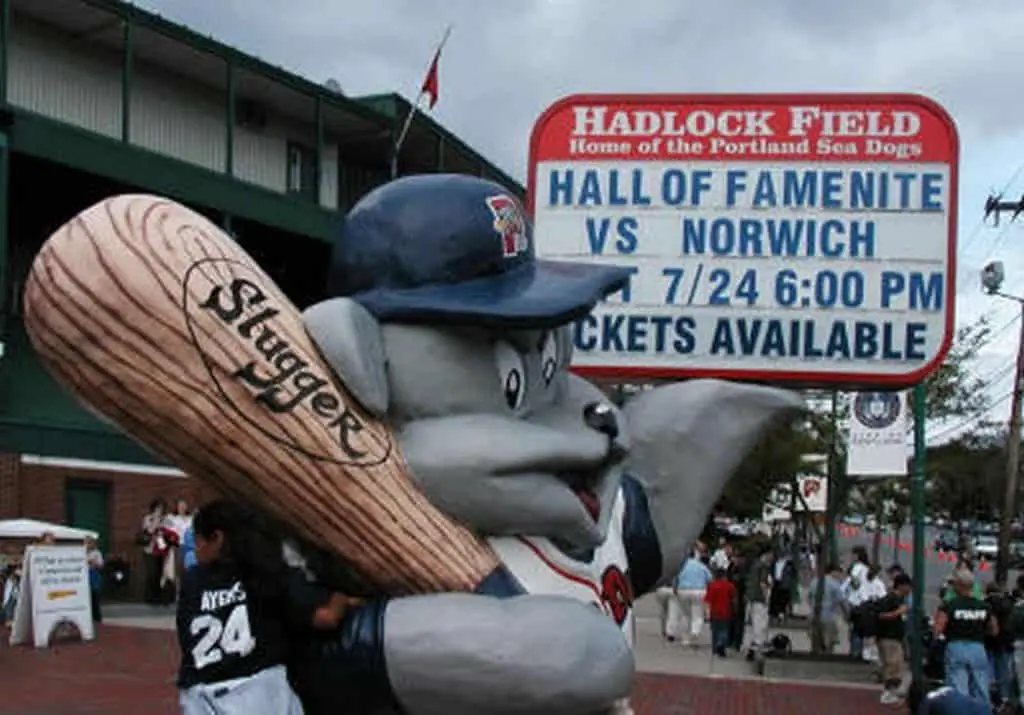 Photos* by Paul Crumlish
Former Notable Players: Josh Beckett, Kevin Millar, Dustin Pedroia, Hanley Ramirez, Edgar Renteria and Kevin Youkilis.
Team

Seating Capacity

Dimensions

Year Opened

Portland Sea Dogs
6,975
LF 314
CF 400
RF 330
1994
The site of Edson J. Hadlock, Jr. Field (or simply Hadlock Field) in Portland, Maine was initially used for high-school baseball.
The town and the surrounding area are known for their passion for baseball.
So, when Portland got the expansion team in the Eastern League in 1992, the city decided to transform the high-school field into a professional ballpark.
Hadlock Field officially opened in 1994 and went through a few upgrades since. The original seating capacity of 6,000 was increased a couple of times over the years and now stands at 7,368.
When the stadium's primary tenants, the Portland Sea Dogs, became the Red Sox affiliate in 2003 a couple of changes were made to make the ballparks a sort of "mini Fenway".
Most notably, a wall similar to the famed "Green Monster" was added to the left field. The wall in Portland was nicknamed "the Maine Monster".
In addition, the luxury boxes all carry the names of the Red Sox Legends. An additional nice touch are the jerseys of the former Sea Dogs players who are now in the Majors decorating the stadium facade.
Another distinctive feature of the Hadlock Field is the Portland Expo Building which is incorporated into the stadium at the right field corner.
Besides Sea Dogs, Hadlock Field is also home to Portland High School and Deering High School baseball teams.
---
*Photos Taken On:
July 24, 2004 – (Norwich Navigators vs. Portland Sea Dogs)