Durham Athletic Park – Durham, North Carolina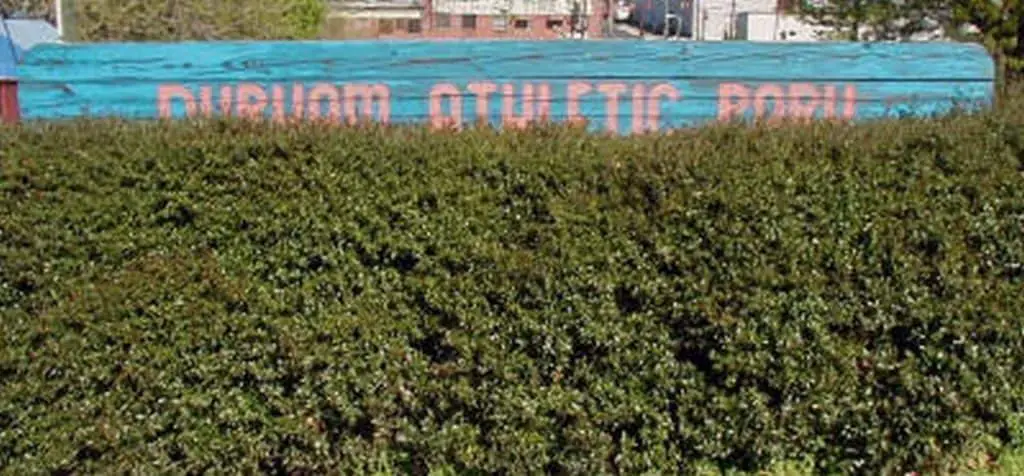 Photos* by Paul Crumlish
Former Notable Players: Lawrence Crash Davis, Chipper Jones, David Justice, Mickey Lolich, Rusty Staub and Joe Morgan.
Durham Athletic Park, or simply The DAP, is the historic ballpark built in 1926.
Originally called El Toro Park, the stadium hosted minor league baseball from 1926 to 1994.
For most of that time, the primary tenants were the Durham Bulls, who served as affiliates to several MLB teams turning that period.
In 1995, the Bulls moved to the newly-built Durham Bulls Athletic Park.
Today, The DAP is home to college baseball, hosting North Carolina Central Eagles and the Durham School of the Arts Bulldogs. The current seating capacity is 5,000.
The ballpark went through several major renovations in its history. This includes an almost complete rebuild in 1940 after the fire destroyed the whole stadium.
After the Bulls left, The DAP mostly served as a venue for entertainment events and hosted a couple of amateur baseball teams.
In 2008, the City of Durham invested in another renovation and the stadium served as the Minor League training facility for a few years.
After the renovation, Durham Bulls hosted a couple of throwback games here, in 2010 and 2011.
Durham Athletic Park is probably best known as a primary setting for the 1988 movie classic, Bull Durham.
---
*Photos Taken On:
April 11, 2002
May 10, 2010 (Toledo Mud Hens vs. Durham Bulls)