Damaschke Field – Oneonta, New York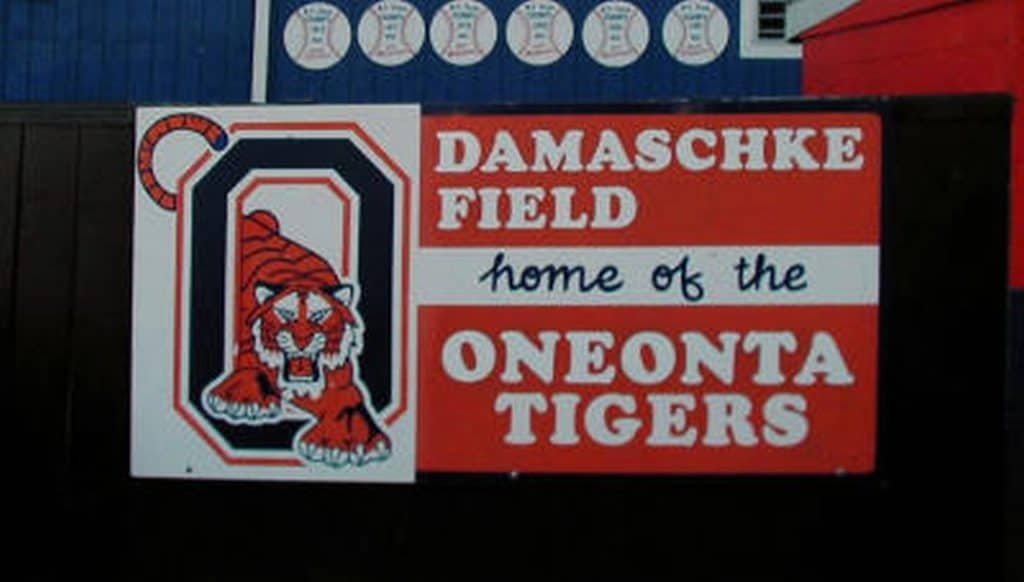 Photos* by Paul Crumlish
Former Notable Players: John Elway, Al Leiter, Don Mattingly, Amos Otis, Jorge Posada, and Bernie Williams.
Team

Seating Capacity

Dimensions

Year Opened

Oneonta Outlaws
3,700
LF 333
CF 401
RF 335
1905
The historic Damaschke Field in Oneonta, New York is one of the oldest still active ballparks in the country. Baseball has been played at this field for over 100 years.
The original stadium named Elm Park was opened in 1905 and saw some of the game's greatest legends like Babe Ruth and Rogers Hornsby take the field.
The ballpark had its first major upgrade in 1939 when the permanent steel grandstand was built.
In 1968, the stadium got its current name after Ernest C. "Dutch" Damaschke, the long-serving Oneonta's Recreation Commissioner.
Damaschke Field went through the second major renovation in 2007 when the picnic area and several new buildings were added.
The current seating capacity is 3,700. The majority of the seats are in the covered grandstand behind the home plate while the bleachers run down both foul lines.
The stadium is known for its family-friendly atmosphere and it remains one of the only ballparks in the country that doesn't serve alcohol.
Over the years, Damaschke Field hosted several local Minor League teams. Currently, it's home to Oneonta Outlaws playing in the Perfect Game Collegiate Baseball League.
Besides, baseball, the stadium also hosted other sports. Local football and soccer teams regularly play their games at the Damaschke Field.
---
*Photos Taken On:
July 20, 2001 (Vermont Expos vs. Oneonta Tigers)
July 27, 2002