The 6 Best Baseball Board Games Of The Year 2023
In the world of sports, few games capture the excitement, strategy, and drama of baseball quite like board games.

For those who share my passion for both baseball and board games, these tabletop simulations offer a unique opportunity to step into the shoes of a manager, strategist, or even a legendary player, all from the comfort of their own living room.

There are many different board games available, so finding the best one can be challenging.

Join me as I take you on a journey through the world of the best baseball board games, each one a unique blend of strategy, nostalgia, and the enduring love for the sport.

From historical reenactments to innovative modern adaptations, I'll guide you through the line-up, so you can discover the perfect game to bring the ballpark right to your living room.

So, let's play ball and dive into the delightful realm of baseball board games that I'm eager to share with you.

In a hurry?

Here are my top 5 baseball board games:

Table could not be displayed.
Strat-O-Matic Baseball
No products found.
Recommended Age: 10 years+
If you want to get as close to the real thing as possible, then the Strat-O-Matic baseball game is a great option for you.
It's a fantastic way to immerse yourself in the world of baseball.
No products found. includes a ton of different statistics, and you can even use real-life players.
This adds a level of authenticity that's hard to beat. You'll feel like you're managing a real baseball team.
You can always try to create new lineups and see how they perform. It's a game that keeps you coming back for more, trying out different strategies and player combinations.
The game offers three different levels of complexity, catering to players with varying preferences.
Level 1 is very basic with a few pages of rules and is quick to set up, suitable for beginners. It's a great way to introduce yourself or new players to the game.
Level 2 strikes a balance with more flavor and rules, offering a satisfying amount of decision-making, chrome, and complexity.
This level, in my opinion, is the sweet spot for the game. It provides enough depth to make each game exciting and challenging.
Level 3 is super-advanced, adding a lot more complexity and depth, likely suited for dedicated players willing to immerse themselves in the game.
It's probably too much for some, but if you're truly hardcore and crave an in-depth experience, Level 3 has you covered.
The game has stood the test of time, indicating its enduring appeal and quality. This longevity speaks volumes about its reputation and how well it captures the essence of baseball.
Whether you're a casual fan or a die-hard enthusiast, you're sure to appreciate what this game brings to the table.
A Timeless Star
Strat-O-Matic Baseball offers an immersive and authentic baseball experience with real-life players, various complexity levels, and enduring appeal, making it a must-try for both casual fans and dedicated enthusiasts.
Components and Visual Appeal
8
Game Zone – Super Stadium
No products found.
Recommended Age: 6 years+
Looking for a baseball game that captures all the thrills and spills of America's favorite pastime? Look no further than Game Zone Super Stadium Baseball.
I have to say, No products found. comes with everything you need to create a realistic baseball experience, and it's a blast to play.
When I unpacked it, I was pleasantly surprised to find a playing field, players, and all the necessary equipment.
What's really cool is that the magnetized infield and outfield players create realistic baseball action. It's like having a mini baseball game right on my tabletop.
Plus, the included scorecard and scoreboard help me keep track of the game, which adds to the immersion.
The dual Pitching lever system simulates realistic pitching action, and the included umpire figure ensures fair play.
It's all about replicating the real baseball experience, and this game does it remarkably well.
This miniature baseball game is a crowd-pleaser thanks to launching levers and concealed contraptions!
It's a lot of fun to take a swing at the plate and aim to hit those home runs, just like in a real game. The players even slide into home plate for those extra points, which adds excitement to every play.
Game Zone Super Stadium Baseball truly delivers an enjoyable and immersive baseball experience, making it a must-have for any baseball enthusiast like me.
Best For Kids
Game Zone Super Stadium Baseball is a tabletop baseball game that authentically replicates the thrills and excitement of America's favorite pastime for a truly immersive experience.
Components and Visual Appeal
10
Grandma Smiley's – What About Baseball
No products found.
Recommended Age: 6 years+
"What About Baseball" offers a nostalgic and accessible gaming experience that baseball fans, including myself, can enjoy.
It's made right here in the US, and it's designed for two to four players, making it perfect for gatherings with friends and family.
When I play, it usually takes about an hour, and what's great is that I find it simple to learn, yet it still offers enough strategy to keep things interesting.
I've noticed that many customers, like me, really enjoy the nostalgic feel of No products found..
It's as if I'm transported back to the days of watching baseball on a warm summer afternoon.
Additionally, I appreciate that it's easy to teach to new players, which makes it even more accessible for game nights.
However, it may not satisfy those looking for a deeply strategic game, as it relies heavily on luck.
Despite this, I still find it to be a perfect gift for every baseball fan, whether they're just getting into the sport or are die-hard fans like myself.
I can't recommend it enough for those looking for a fun and casual baseball-themed board game.
3. Runner Up
"What About Baseball" offers a simple-to-learn yet strategically engaging experience that captures the essence of baseball for fans and gatherings with friends and family, though it leans more towards casual gameplay and may not suit those seeking deep strategic challenges.
Components and Visual Appeal
9
Bottom of The 9th Card Game
No products found.
Recommended Age: 14 years+
The objective of this baseball card game is to score more runs than your opponent, and it's a quick game that can be played in less than 30 minutes.
The game is played with a deck of cards, which are used to represent the players, teams, and events of a baseball game. It's a unique and immersive way to simulate a baseball match.
The cards are shuffled and dealt to each player. I like how each player then sets up their team by choosing their starting lineup. It adds a strategic element to the game.
No products found. is played over a series of 9 innings, and in each inning, the players take turns being the pitcher and the batter. I found this dynamic to be really engaging.
The pitcher rolls the dice and consults the pitcher card to see what type of pitch they will throw. The batter then uses the batting card to try and hit the ball.
It took me a bit to get the hang of the dice mechanics, but once I did, it added to the excitement of the game.
If the batter hits the ball, they consult the base running card to see how far they can run. The play then continues until the inning is over.
The player with the most runs at the end of 9 innings wins the game! It's a simple yet competitive setup that keeps you on your toes.
I must say that this game is both simple and enjoyable. It's true that games can take as little as 10 minutes, as stated on the box.
Another thing I appreciate is that there isn't much chart reading involved, just reading the strengths of each player, which makes the game flow smoothly.
Overall, I highly recommend giving "Bottom Of The 9th" a try if you're a fan of baseball or just looking for a quick and enjoyable card game.
You won't be disappointed!
4. Runner Up
"Bottom Of The 9th" is a fast-paced and engaging baseball card game that simulates a baseball match in under 30 minutes, and a competitive gameplay that's simple to learn and perfect for baseball enthusiasts or those seeking a quick and enjoyable card game experience.
Components and Visual Appeal
7
Across The Board Baseball Game
No products found.
Recommended Age: 6 years+
Across The Board was released back in 2006 and it's designed for two to four players, making it a perfect choice for game nights with friends or family.
Whenever I dive into a game, it typically takes about two hours to play.
The main goal of this game is to score the most runs, and you do that by creating lineups and fielding them against your opponents. It adds a nice strategic element to the gameplay.
But what really stands out for me is the way you can score bonus runs. Hitting home runs and stealing bases is not just thrilling but also rewarding in the game.
One of the unique features that I've discovered with No products found. is the use of a spinner instead of dice to determine what happens in each play.
This spinner adds an element of unpredictability, and what's cool is that it has different outcomes for each type of pitch, all based on real-life statistics.
It adds a realistic touch to the game that I appreciate as a baseball fan.
Now, on to an important detail I've noticed about the game. The game is well crafted, but it is NOT made of maple. It is made from some manufactured material like MDF with a maple veneer.
So, while it's well-made, it's essential to clarify that it doesn't actually consist of solid maple wood.
5. Runner Up
"Across The Board," offers a strategic and immersive baseball board game experience with a unique spinner mechanic.
Components and Visual Appeal
9
Sharper Image – Tabletop Baseball Game
No products found.
Recommended Age: 12 years+
The main objective of the game is to score the most points, and you do that by aiming to hit the ball into one of the five home run targets.
It's a simple yet engaging goal.
No products found. is designed for two to four players, which is a great range for a game night with friends or family.
However, if you want to crank up the challenge a bit, you can increase the number of players to six, which adds an extra layer of excitement to the game.
I've found that playing with four or more players also gives me the option to choose teams, and that adds an element of competition and fun.
It's great to team up with friends and try to outscore the opponents.
The game comes with four wooden bats, four plastic balls, and a scorekeeper, which is everything you need to enjoy a game.
The best part is that all these components are neatly stored inside the game board itself.
It even has a carrying handle for easy transport, making it a breeze to take Tabletop Baseball with you wherever you want to play.
6. Runner Up
"Tabletop Baseball" is a simple yet engaging game, featuring wooden bats, plastic balls, and a built-in scorekeeper for convenient storage and transport.
Components and Visual Appeal
7
My Key Factors for Evaluating Baseball Board Games
I've selected these five key features as my rating factors for baseball board games because they cover a wide range of aspects that I believe are essential for a well-rounded gaming experience.
Here's why I've chosen these specific factors:
Realistic Gameplay
Realism is paramount in a baseball board game. The game should capture the essence of the sport, allowing players to immerse themselves in the strategy and excitement of baseball.
Realistic gameplay ensures that the decisions players make on the board closely mirror those made on the actual baseball field, enhancing the overall enjoyment of the game.
Components and Visual Appeal
Engaging components and an attractive game board contribute significantly to the overall experience.
Well-designed player cards, tokens, and a visually appealing game board can draw players into the game world and make it more enjoyable.
Quality components also enhance the tactile aspect of gaming, adding to the overall immersion.
Replayability
A great board game is one that you can play again and again without it feeling stale. Replayability is crucial because it keeps players coming back for more.
A game with different scenarios, strategies, and outcomes each time you play ensures that it remains enjoyable in the long run.
Educational Value
Board games can be a fun way to learn and educate players about a particular subject.
In the case of baseball board games, they can help players gain a better understanding of the sport's rules, strategy, and history.
Educational value adds depth to the gaming experience, making it both entertaining and informative.
Optional Complexity
Not all players have the same level of experience or interest in complexity.
Offering varying levels of complexity or optional rules allows players to tailor the game to their preferences.
This feature ensures that both casual players and serious gamers can enjoy the game without feeling overwhelmed or bored.
Things To Consider Before Buying A Baseball Board Game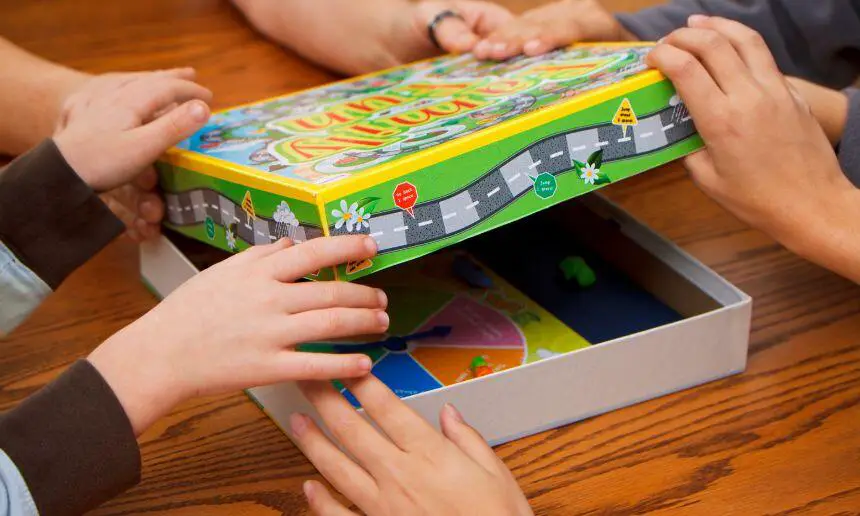 When choosing a board game, consider the following factors:
1. Age Of The Players
Board Games are typically recommended for kids ages 6 and up.
If you're buying the game for younger children, make sure it's simple enough for them to understand.
Conversely, if you're buying the game for adults, look for something with more strategy and depth.
2. Level Of Difficulty
Some board games are more difficult than others. If you're buying the game for younger children, look for something with simpler rules.
For more experienced players, a more difficult game can be more fun and challenging. Ensure that the game you choose is appropriate for the skill level of the players.
3. Time Required To Play
The length of time required to play a board game can vary greatly. Some games can be played in an hour or less, while others may take two hours or more.
This affects how much time you'll have to dedicate to playing the game. Make sure the game can be played in the time frame you have available.
Consider how long you want to play the game and choose one accordingly.
4. Preferences
Some baseball games are more realistic, while others are more arcade-like.

If you want a game that simulates the experience of playing baseball, look for a game that includes statistics and player cards.

If you want a more fast-paced, arcade-like game, look for something with dice or spinners.

Table could not be displayed.
Conclusion
These are the best baseball board games on the market today. They are perfect for kids and adults alike, and they offer a unique and fun take on the sport of baseball.
If you're looking for a way to pass the time, or if you're a collector of baseball memorabilia, then these games are worth checking out.
Keep in mind that some of these games require batteries, so be sure to check the product descriptions before making your purchase.
I hope you enjoyed my roundup of the best baseball board games!