Arm & Hammer Park – Trenton, New Jersey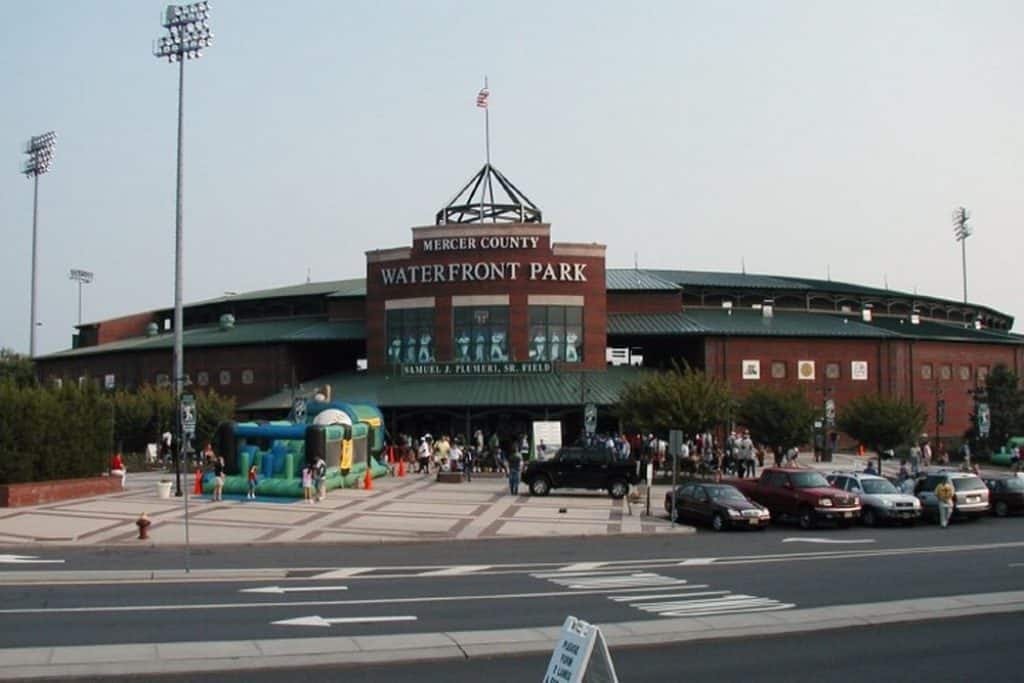 Photos* by Paul Crumlish
Former Notable Players: Tony Clark, David Eckstein, Nomar Garciaparra, Shea Hillenbrand, Trot Nixon, and Jeff Suppan.
Team

Seating Capacity

Dimensions

Year Opened

Trenton Thunder
6,440
LF 330
CF 407
RF 330
1994
Built in 1994, Trenton Thunder Ballpark has been the home to the baseball team of the same name for almost three decades.
Originally known as Mercer County Waterfront Park, the stadium changed its name to Arm & Hammer Park after selling the naming rights in 2012.
The sponsorship lasted until 2020 when it was discontinued as Trenton Thunder lost its major league affiliation. The playing field carries the name of Samuel J. Plumeri, Sr., the father of Thunder owner Joe Plumeri.
The official capacity stands at 6,440 although the ground attracted an even bigger crowd on a few occasions.
The glory days of the ballpark were between 2003 and 2020 when the Thunder were New Your Yankees affiliate.
The record attendance was set on July 3, 2011, when the crowd of 9,212 gathered to see rehabilitating Derek Jeter in a matchup between the Thunder and Altona Curve.
Trenton Thunder Ballpark is set at one of the most attractive locations in baseball.
Tucked between Route 29 and the Delaware River, the ballpark offers spectators a unique viewing experience.
The advertising billboards at the center and left field obstruct the view towards Route 29 and the local neighborhood, while the fence at the right field was deliberately left shorter to provide glorious sight of the river and the state of Pennsylvania stretching beyond.
This unusual positioning often results in home run balls finishing in the water.
---
*Photos Taken On:
April 19, 2002 (Portland SeaDogs vs. Trenton Thunder)
August 22, 2003 (Binghamton Mets vs. Trenton Thunder)
August 28, 2004 (Binghamton Mets vs. Trenton Thunder)
July 9, 2008 (Altoona Curve vs. Trenton Thunder)